Single axis systems parameters:
Travel range up to 56 000 mm

Maximum speed up to 5 m/s

Maximum force up to 1600 N

Maximum acceleration up to 10 m/s2

Positioning accuracy up to 3 µm/m

No backlash

Multi carriage option on single axis

Smooth and silent operation

Compatibility with wide range of controllers

Vertical and horizontal configuration in XYZ

Easy set-up and installations

High robustness
World class linear system MG series
The MG series system guarantees unmatched dynamic, metrological and functional parameters in its class. These systems have the same advantages over classic ballscrew and belt-drives solutions
---
Why MG series linear system is much better than "classic" solution?
MG series solutions are extremely dynamical. Now with the speed of 5 m/s, acceleration up to 10 m/s2 and accuracy up to ± 3 μm/m is easily achievable. There are no wear elements in the MG system. The MG system requires only minimal service during operation.
---
High class components
MG systems are built from the highest quality components. We rely on the components of the best producers available on the market. Our final product is also tested for accuracy, safety and reliability.
---
Calibration and certification
For systems requiring high and very high precision, we provide a graph in the form of error maps, reflecting the actual accuracy and positioning repeatability. Based on this data, the user can make corrections to the control system to improve the accuracy of axial movements. The following is a typical graph of linear system position deviation with optical measurement system before and after compensation.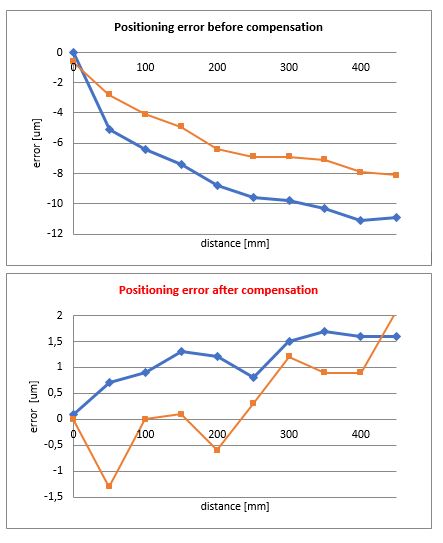 ---
Profitability
Check and see that the cost of a system based on a linear motor is cost-effective, and due to the low cost of exploration, the investment returns even faster.